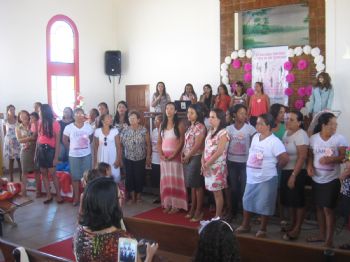 This Saturday found me getting up at the crack of dawn to head off to an area wide women's meeting of our local churches. Our local association of Baptist churches includes 6 churches and about 15 - 20 smaller congregations and works. Twice a year the ladies of these works meet for a special day dedicated to encouragement, prayer, missions and sisterhood stuff.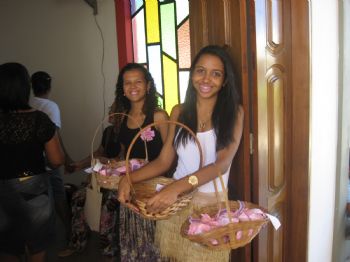 The women of each host church work for months to prepare small gifts for each participant, door prizes and assorted gifts. Each woman comes prepared to give a monetary gift for a missions project. Reports from each work are given and an encouraging devotional is shared by a local speaker. Food is prepared for all - lunch, breakfast and supper. There are even goofy games and fun activities in the afternoon.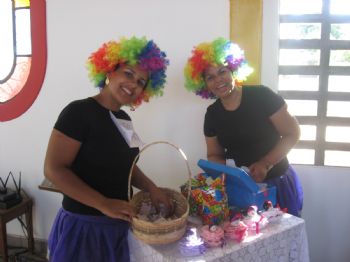 It was hard for me to get away to go to this event. The day before this event it didn't seem like things were going to work out for me to go, but go I did. I was encouraged by other women, the messages and the power of many BIG hugs.
Getting out is good for stay at home moms, missionary wives, and working women, too, especially when you can spend your time with other empowering GIRLS!
Blessing of the day:
A little girl who always goes to these events with her mother whom I've watched over the years saw me when I arrived and came up to me for a little hug and "blessing." The first time I met the single mother years ago, she was skinny, sickly and a real mess. The little girl was dirty, snotty, and an absolute beast. Every time I has been at any area event where this mother was present, I decided to sit near by, help with the child, and try to be kind. Over the years I've been blessed to see small improvements in the lives of these two. I credit their growth to the involvement this woman had with her local church women's society and with women who cared about other women. It was the joy of my day.
p.s. This is a repost from another blog of mine, ok? :)